AUG 1 – 23.30 UTC. NANUQ has successfully reached Nansen fjord in Greenland, after the 2 day rough  journey from Iceland. Skipper Gallinelli had sent an Iridium message early in the afternoon: "Now in sight of of Blosseville Coast at a distance of 50 miles. Calm sea and steady winds from SW, cruising at 8 knots speed. Couldn't be better. We are recovering from the stormy night and catching up on food. Looking forward to dropping our anchor in an estimated 8h time. Nevertheless, keeping in mind that especially in the Arctic nothing is 100% for sure." As the boat got closer to Greenland's coast, she found progressively denser ice on her way,  and had to slow her speed down.  Navigation continued safely and at 22.02 UTC NANUQ reached coordinates 68°5'N, 29°59'W. At that time the Skipper sent another update: "Just entering Nansen fjord after pushing our way through 20 miles of pack ice. Fortunately with sufficient open water to make our way through. The steep cliffs of the barren coastline are impressive, very wild place! We will search for a safe mooring for a rest in the still uncharted fjord after 380 mile crossing from Iceland." With the arrival in Greenland, another phase in the expedition activity begins, and the crew will set up the planned series of activities that will be documented in the next days.
UPDATE (AUG 2): Early this morning, Peter Gallinelli sent via e.mail through the Iridium satellite connection a low-res image taken onboard NANUQ during arrival in Greenland. It gives a feeling of the cold and cloudy approach to the wild and beautiful island.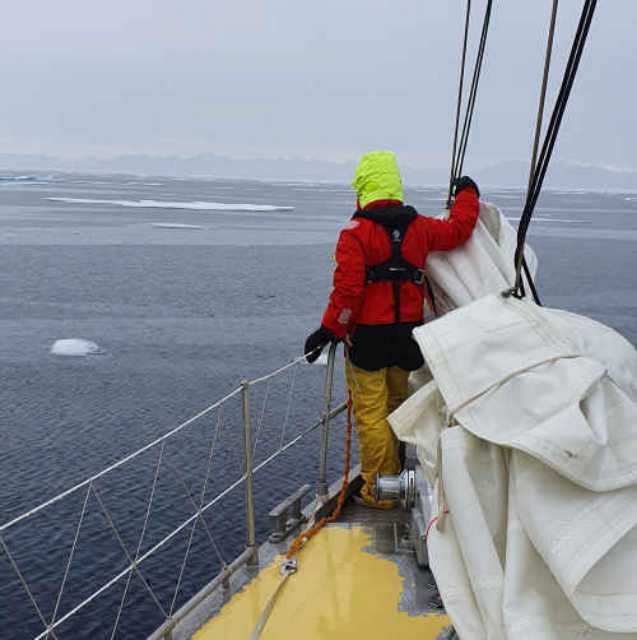 NANUQ's arrival to Greenland on August 1st, 2020.
Frontpage arcticle image: archive photo NANUQ in Greenland (2015)